Registering a domain name is an essential step to establishing your online presence. A domain name not only acts as the address of your website but is also a part of your branding and business's identity. Thus, getting a premium domain name is also a form of investment.
With approximately 1.83 billion websites on the internet, having a good domain name that stands out can give you an advantage over your competitors. However, the process of registering a domain name can be confusing for beginners.
Therefore, this article will guide you through the process of how to register a domain name for your website.
1. Research the Domain Name
The first step to having a good domain name is to conduct research and brainstorm. If you already have a business name or brand, the easiest solution is to use it as your domain name too. It makes the whole process simpler and may help you establish brand awareness.
However, if you don't have an existing brand to use as a domain name, it is time to be creative and identify what makes a good name. Try to analyze your website's characteristics and what it has to offer. It is also good to research your industry and find out what keywords attract your target audience.
Numerous business name generators are available online that might help you with more inspiration and speed up the brainstorming process.
2. Check Domain Name Availability
Once you have a preferred domain name, there is still a possibility that it is already owned and used by another website. Because of that, use a domain name search service to make sure your domain name is available.
Verisign reported that the first quarter of 2021 closed with 363.5 million new domain name registrations across all top-level domains. Considering this sheer number of registered domains, getting an available one can be quite challenging.
Therefore, it is important to prepare several domain name options if your first option is not available. Try to make some tweaks to the name by adding verbs or your location-specific keyword. Keep in mind that sometimes getting a perfect domain name is not possible, and you might waste a lot of time if you only focus on getting one specific name.
3. Choose a Domain Name Registrar
Domain name registrars are companies that lease domain names to clients for a certain cost. The registrar will register the name on your behalf and then use it for your website for an agreed-upon period.
There are numerous available registrars out there, and you are free to choose whichever you want since there is not much difference between them. But, if you are confused about which one to choose, some of the most popular ones include Hostinger, GoDaddy, Domain.com, and Namecheap.
These websites offer different user interfaces, which may alter the purchasing process. Take your time and check all available options to make sure you get the best price for your domain name.
4. Prioritize Choosing .com
Another important aspect of registering a domain name is deciding which top-level domain (TLD) to use. Simply put, TLD is the last segment of a domain name that comes after the last dot, for example, .com or .org.
There are many TLDs, and they are grouped into three categories: generic TLD, sponsored TLD, and country-code TLD. Among many TLD options available, the most popular and recommended one is .com.
Choosing .com as your domain extension can give you several benefits, such as boosted credibility and familiarity amongst target audiences. However, when your preferred name is not available with the .com extension, other TLDs are also viable alternatives.
For example, if your website focuses on educational topics and services, using .edu might be a good option. Choosing location-specific TLDs such as .us or .uk can also help you if your business focuses on the local market.
5. Purchase the Domain Name
Once you decide on a name and check its availability on a preferred domain name registrar, it is time to purchase it. The transaction process might differ depending on which registrar you are using, but most of them are relatively easy to use.
Before you finalize your purchase, make sure you don't pay for any unnecessary upsell services offered by the registrar. Also, keep in mind that you are not obligated to host your website at the same provider where you purchased the domain name.
If someone else already owns your preferred domain name, it is still possible to get this domain name by purchasing it from its owner. Some registrars also have a marketplace where people can sell and buy domain names.
6. Select the Ideal Registration Period
When you purchase a domain name from a registrar, there is a registration period that tells you how long the name would belong to you. Most platforms will give you the default validity time of one year, and you will have to renew the registration to continue using the domain name.
Different companies might offer different registration period options. Some registrars allow you to use a domain name for up to 10 years with a single registration. The key here is to know the ideal period based on your preferences.
If you are not sure about your website's continuity and don't mind renewing your domain every year, then one year period might be the best choice for you. However, if you want to keep the domain name as part of your brand, we recommend choosing a longer period since it is more convenient.
7. Consider WHOIS Privacy Protection
WHOIS is a service that allows you to protect your personal information. This is an important service since the domain owner's information such as name, address, phone number, and email address will be publicly accessible.
Having your personal information available for the public may also expose you to the risk of identity theft. Hackers who know your email address can send you spam, phishing emails, and malware to breach your system.
According to Tessian, 74% of organizations in the United States experienced a successful phishing attack in 2020. This makes social engineering attacks a serious problem for organizations and individuals. That is why we recommend considering adding WHOIS service when purchasing a domain name.
8. Start Building Your Website
After you successfully register your domain name, start setting up your hosting and build your website. If you don't have hosting and website ready, some registrars will let you attach a newly purchased domain name to a temporary website.
Two of the most common and easiest ways to build a website are by using WordPress and online website builders. WordPress is a good choice if you have some technical knowledge and want your website to be versatile and highly customizable.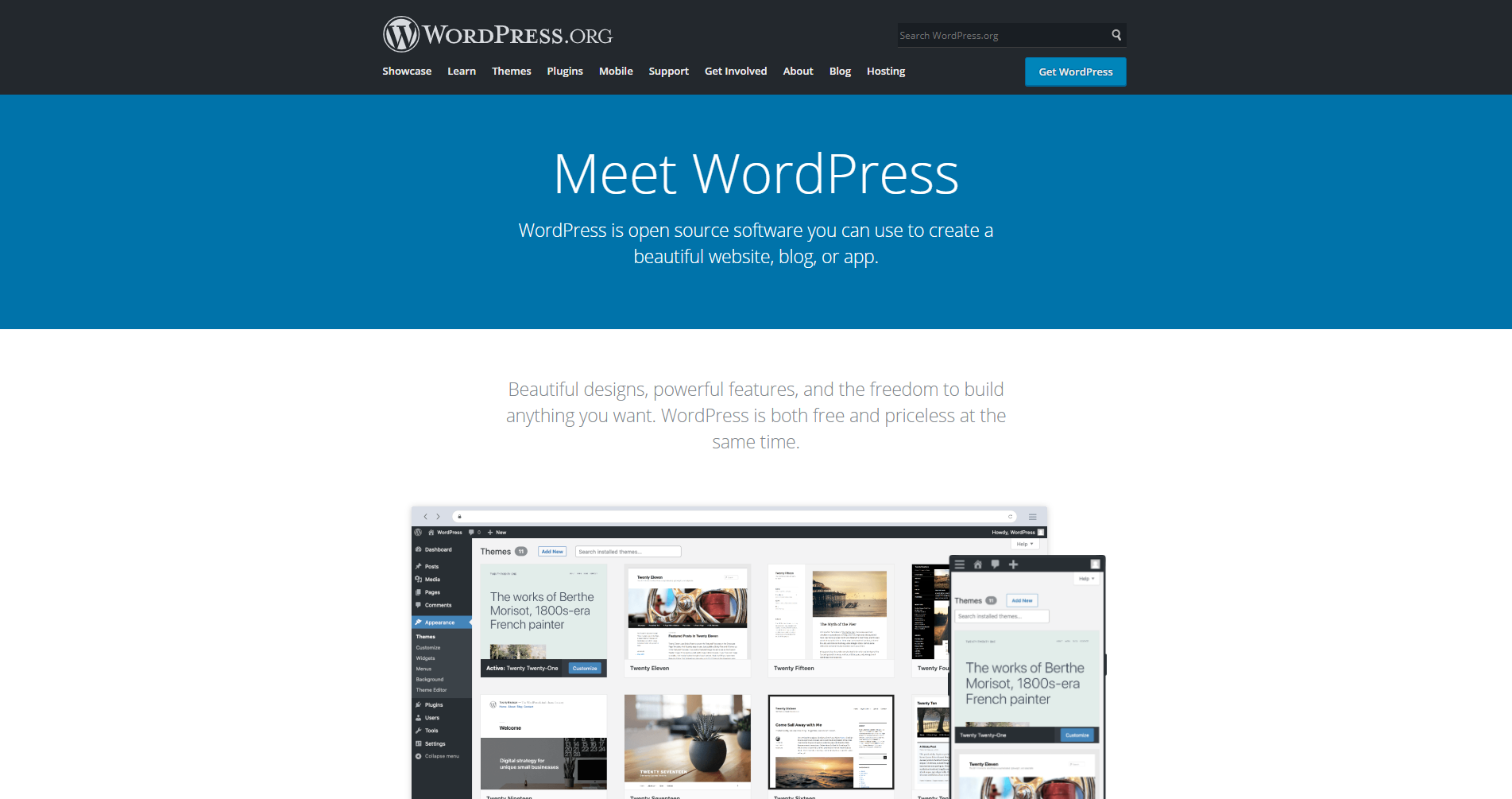 However, if you are not familiar with the process of building a website, online builders might fit you more since they can help you get a functional website quickly and easily. Most of them also allow you to use your own domain name and attach it to your website.
Conclusion
A domain name as an identifier and branding tool plays an important role in your website's growth. To use one, a website owner needs to register their domain name to the Internet Corporation for Assigned Names and Numbers (ICANN) through a domain name registrar.
In this article, we have learned eight easy steps to registering a domain name:
Research the domain name
Check the domain name availability
Choose a domain name registrar
Prioritize choosing .com
Purchase the domain name
Select the ideal registration period
Consider WHOIS privacy protection
Start building your website
Registering your domain name is the first step to building your online presence. Once you complete the processes presented in this article, you are ready to grow your website and engage your audiences.